Car dependency in Australia
The end of the second world-war saw a boom in Australia's population, rapid expansion of the economy and increased urbanisation in our major cities which has shaped us into one of the most car dependent nations in the world. A higher percentage of people use cars to get to and from work in Adelaide than any other Australia city, and South Australians own more cars per capita than any other state (ABS, 2013)*. 
This page provides information on a range of alternatives to driving that can help save you stress, time and money. Remember you're not stuck in traffic, you are the traffic.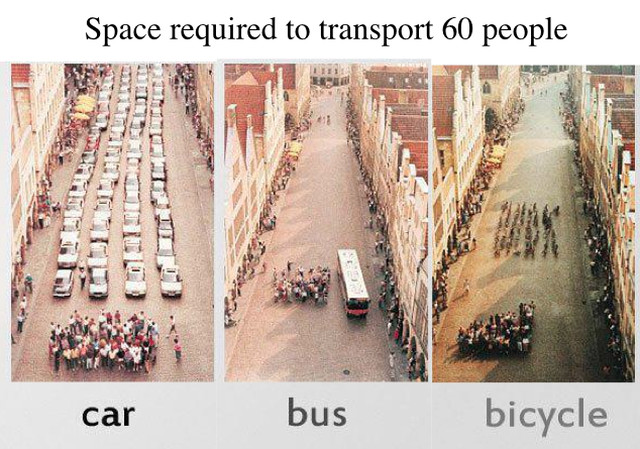 ---
Car Pooling
One great way to reduce the amount of driving you do is to car pool. This reduces the amount of money you spend on petrol, parking and the wear and tear on your vehicle. You can find our other people at work, your kid's school, or sporting club that live close to you which are happy to alternate driving responsibilities.
Can't find anyone that lives close to you? That's no problem! The SA Government have developed the Adelaide Carpool Website where you can find other people in your area that are travelling in the same direction as you.
---
Public Transport
Using public transport is an effective, stress free and cheap method of getting to and from your destination. By catching public transport you are also acting in a sustainable manner by reducing greenhouse gas emissions and reducing the amount of traffic on the road.
Adelaide Metro
Adelaide has a network of bus, train and tram routes that covers the entire metropolitan area. The Adelaide Metro website makes it easier than ever to find the best method to get to where you're going using the Journey Planner. Just enter you current location, the destination and what time you would like to leave or arrive, and the Journey Planner will do the rest for you.
Paying for public transport fares is also now easier than ever with the MetroCard. The MetroCard is available from a wide range of distributors for a small cost of $5 (or $3.50 for concession) but has cheaper fares than a single trip. The card is easily recharged at the distribution locations or it can be registered at the Adelaide Metro Website to enable the online recharge facility. The website even offers an automatic recharge option that automatically takes an amount of your choosing from your credit card when your MetroCard credit is close to running out, so you never have to worry about buying a ticket.
---
Riding and Walking
Deciding to leave the car in the driveway for short journeys to take the bike or as an opportunity to walk with the dog or kids can have some great impacts for your health and wellbeing, reduces pollution and traffic, and provides a great opportunity meet people in your local area. The CoP has developed a strategy to create changes to the council area that will make walking and riding more appealing to residents. Additionally, the benefits of people friendly street layouts are further detailed in the Streets for People Compendium for SA Practice.
The State Government also provide the Cycle Instead Journey Plannerwhich works in a similar method to the public transport journey planner, but it finds the best cycling route between two locations. The planner has a range of options that cater for those prepared to travel on the quickest routes on main roads and for those who would rather avoid traffic and utilise pathways. The planner even provides an option for sealed and unsealed tracks to help you find your optimal cycling trail.
Walking and riding can be a practical method of public transport, but can also provide a great recreation activity. The Weekend Notes webpage provides some excellent ideas for local walks. The South Australian Trails Websitehas a wide range of walking trails, as well as horse riding, cycling, diving, canoeing and adventure ideas. The BIKESA website also provides information on great cycling rides in South Australia, but also provides information on regarding safety, equipment and the latest cycling news.
---
References
*Australian Bureau of Statistics (ABS), Car Nation, viewed online 24/10/2014, at: http://www.abs.gov.au/AUSSTATS/abs@.nsf/Lookup/4102.0Main+Features40July+2013.
IMAGE CREDITS:
Banner - 'Bombadier' by Bill Doyle
Sidebar - 'Edinburgh Bicycle' by Neal Fowler [CC]